Construction is the third largest industry in Australia, comprising over 9% of the total GDP. 
Given its immense impact on Australian economy, it's shocking how slow and reluctant construction companies have been in embracing cutting-edge digital technologies. 
According to a report by the Office of Chief Economist, the construction sector still heavily depends on manual labour for data collection and processing. 
This leaves a lot of room for errors,  data discrepancies and overall improvements. 
Another report by McKinsey reveals that due to the lack of innovative technology, large construction projects take 20% longer to finish! 
Add to that the numerous issues with on-site productivity, budget constraints and other inefficiencies and we've got quite a costly situation. 
If only there was an accessible solution.
Well, lucky for you, there is. Drones are slowly but surely being introduced in the construction sector making things a lot easier, efficient and accessible.
Spare the paperwork, now you can now use drones to keep a digital record of all the on-site information, process it with far greater accuracy and generate 3D maps and models for measurements and calculations.  
I am still baffled by how little drone surveying for construction is utilised and only now is it becoming more common on construction projects in Australia. 
Ah well, some say it's better late than never.
Our Project Portfolio
A few of our past projects from our years of experience of working with 100+ clients in AEC Industry carrying out 3D Laser Scanning, modelling, volumetric calculations, aerial inspections, mapping & contour surveys, aerial land surveying, photomontage and much more.
So, how can drones be useful in the construction industry?
A drone basically helps you with on-site inspection, investigation, progress tracking and site surveying. The drone camera, captures aerial photography and video footage of your site in real-time. The ground topography is captured from various angles, in high-resolution quality to be stitched into maps and models using a process called photogrammetry. 
Plus, the images and videos thus captured are geotagged with detailed GPS information and this is crucial to calculate distance, measure progress and provide complex calculations about the project. 
Combined with surveying and photogrammetry techniques, one can also create 3D digital models that are accurate digital reproductions of buildings, pipelines, railroads, refineries, and other infrastructures. These models are used for measurements, modifications and designing and give engineers important information that is geometrically accurate within millimeters.
What's more, you can process the acquired drone data into photogrammetry software to generate 3D maps and models for closer inspection and measurements as shown in the video below.
Let's take a look at the ways in which drones can revolutionize construction projects and add value in the construction project lifecycle. 
Obtain key site details

Drone surveying for construction can be a lifesaver for contractors who want to leverage the preliminary investigation process. 
We use drones to capture high-resolution, detailed images of the site from various angles and other important site features. It is crucial in collecting on-site data and saves time on the pre-works estimation process. This data can be valuable in the pre-planning and estimation stages of the process to accurately and confidently calculate project works and materials.
The 3D maps and models generated in real-time are far superior in both quality and accuracy when compared to the manually generated topographical maps.
Contractor quotes can be refined and excess costs removed due to more information supplied at the time of quotation and submitted proposals are vetted against data derived from precise site calculations and analysis.
This also gives you leverage in the bidding process, as you have a better chance of convincing potential investors to put money in your project with tangible evidence.
Pricing packages to suit your business
Plans with inclusions for Drone Inspection, Land Surveying, 3D Laser Scanning, Drone Photography & Videography. Get custom quote for your specific requirement.
On-Demand Site Survey Data 
Normally, it takes a couple of days to manually inspect the site, collect data and draft topographical or contour maps. With drones you can get this done a lot faster!
We use drones to cover larger land areas and this time saving is a gamechanger in the construction business. 
So, rather than waiting a week or weeks to get site survey data we can get the job done in a matter of hours. Using a solid workflow and reliable processes, drones can map around 900 acres (fixed-wing) and 250 acres (multi-rotors)  in a day, giving project managers a bird's eye view of the land and existing conditions.
This gives you an overall picture of the entire site area and surrounds in a fraction of the time it takes to walk the ground and conduct a site inspection.
Faster Cut and Fill Calculations 
The images captured by drones help engineers with quick and effective cut and fill calculations. By combining surveying and photogrammetry techniques the cut and fill contour method helps design topographical features like drainage canals and embankments. 
The drone and survey data, processed by specific photogrammetry software, gives you an accurate estimation of three main aspects. 
How much material needs to be "cut" or reduced?  

Which sections of the site will be reduced? 

What sections can be filled?
We can convert drone data to vector format, for integration into Civil 3D, CAD or Revit to streamline the workflows and save time. An example of this data would look something like this:
The drone data is also used to generate 3D site maps and models that are a photo-realistic reproduction of the topography of the land, complete with all its existing features, elevations and depressions.
Remote Tracking and HD Surveillance
Drone surveying for construction projects often capture aerial photographs of the property and also provide a complete and current map of the property in 2D maps and 3D site models. 
This helps with project progress tracking and is used to overlay survey plans and site drawings to measure progress and validate contractor works.
You don't need to manually examine the site for site details as you can do this from the comfort of your office and have the information prepared and ready for sharing with project team members, key stakeholders or onsite project personnel. 
Our teams visit multiple sites and capture important site details and can provide comprehensive reporting on the project progress, safety compliance, asset monitoring and contractor performance. 
Check out this video to understand exactly how we do it and what benefits you get from using drones for construction updates.
Drones will capture real-time data, live streaming it to your computer for easy and quick access. You can directly track the project's developments, identify any on-site issues, and get them resolved immediately.
Improved On-Site Safety and Compliance
With drone surveying we can assess site safety compliance and site conditions without anyone knowing the drone is high up overhead. This can improve safety outcomes, reduce incidents and safeguard the construction workers on the project. This type of safety monitoring is increasing in its adoption especially important for high risk construction events such as beam lifts. With drones you can safely monitor site activity at a safe distance and in difficult to access positions such as up high alongside bridges or high rise building facades and in dangerous safety exclusion zones.
Our teams conduct site safety audits using drones to capture detailed images and video from a safe distance. Using a combination of photogrammetry software and machine learning algorithms we are then able to complete an audit of site safety compliance or asset counting and monitoring.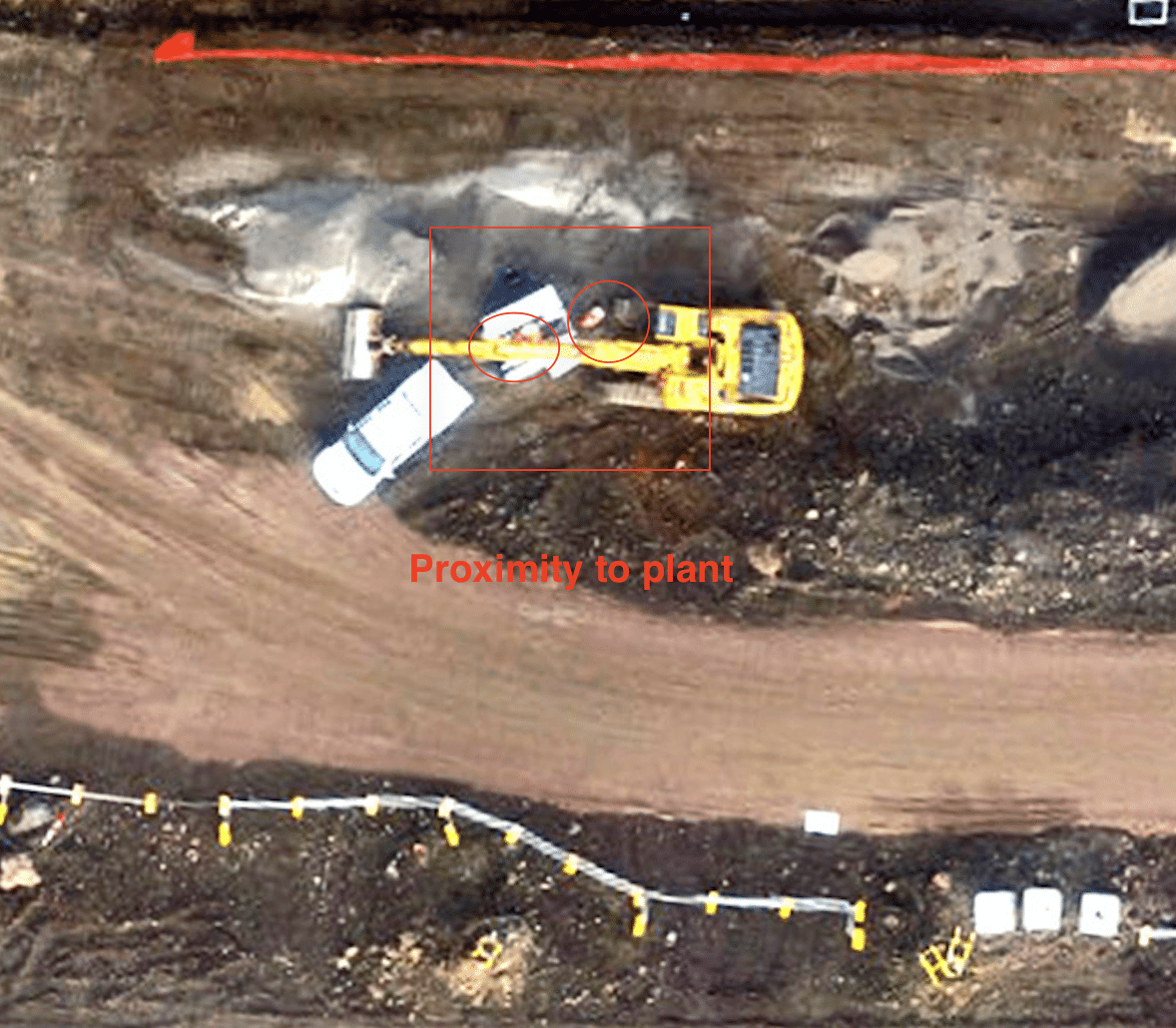 This level of visibility of site activities gives project managers increased awareness of the entire project as they simply can't be everywhere at once! Plus those working onsite are able to increase safety awareness and culture by knowing when there have been issues or near miss occurrences throughout the project.
Asset Inspection and Monitoring

Drones are increasingly used for investigation work like inspection, monitoring and maintenance activities from checking existing conditions to inspecting pipelines and conducting periodic inspections on heavy-duty machinery etc. for damages, corrosion, leakage etc. This improves planning, extends asset life and informs maintenance schedules. Using this method of inspection also reduces workers' exposure to these types of dangerous situations. It's obvious that drones are crucial for reducing the risk of on-site injuries. But now drones are providing engineers with important information to enable decision making faster than before.  
Workers can avoid manually climbing up to high positions or using cranes, ropes and ladders to go up and down deep pipelines, bridges and buildings. In fact, we can cover in a day or two what a manual inspection would take triple the amount of time to achieve. 
The data collected from drone surveying is accessible only to site managers, engineers, and other qualified personnel on the job by using secure data sharing and security procedures. Teams can collaborate easily using the same information, captured in real-time, about site activities and project progress. 
This reduces the risk of confusion, delays and costly errors due to a good quality standard of data that is shared amongst stakeholders.
Have a custom requirement ?
Get a quick estimate for your specific project requirements with listed inclusions/exclusions.
Asset Tracking and Management 
Drone surveying for construction is also valuable for asset tracking and management. You can keep a close eye on the construction materials, plant and other assets left on sites. This prevents the risk of thefts and illegal trespassing and can assist with insurance and risk assessments as it relates to insurance. 
Also, with this type of monitoring, you can keep track of the materials reaching the site, replenish resources before they get exhausted or maintain stable inventory for consistent and smooth site operations. 
Supply chain monitoring is a huge aspect of the construction project and with drones you can ensure that you don't run out of raw materials, equipment, or other important resources.
Easier Project Reporting And Promotion
The aerial photography and video captured with drones help make impressive reports and construction updates for your clients. It also makes project reporting a lot more engaging for stakeholders. 
These update videos and reports can be combined with visualisation like 3D maps and models to depict exactly what is happening on-site, giving clients a clear picture of how the construction work is progressing and report with visual evidence on certain aspects of the project. 
Plus, these site maps and 3D models are easily integrated with most of the main construction data management systems. You don't have to change your existing workflow to incorporate this new technology.
Professional Drone Surveying Experts At Your Service!
At AVIAN, we believe in providing data-driven business solutions to engineers, construction management, architects and project builders. Our drone experts will help you with services like on-site inspection, surveying, site mapping, 3D modelling, marketing and digital imaging and video. 
Book a consultation with us today and let us show you the value these 8 methods can bring to your construction project.   
Have a question for us ?
Our team is eagerly waiting to know about your queries. Please call us at the number below during business hours and our team will help you out.