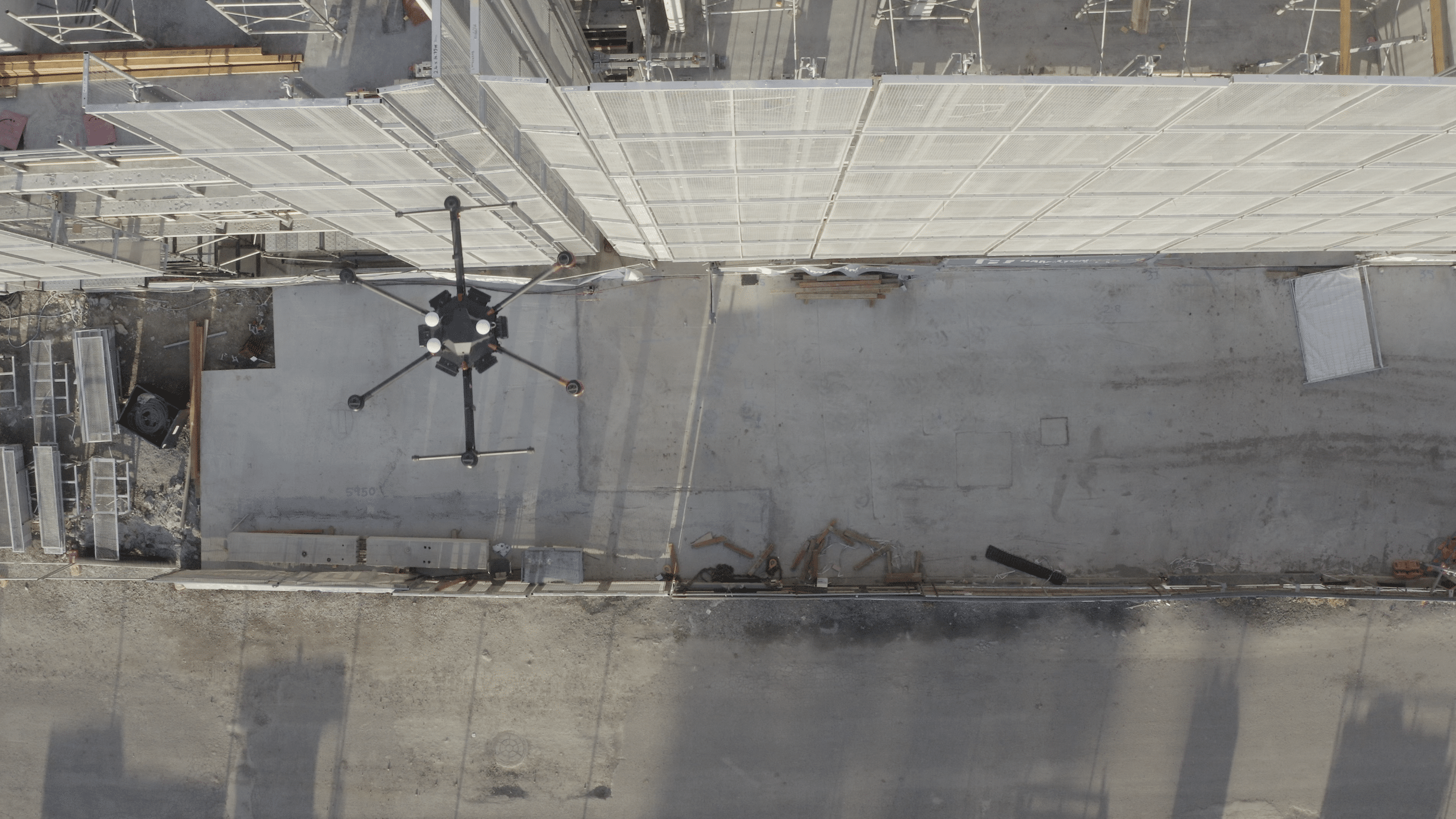 To an outsider, road construction might look deceptively simple. 
Surely, it cannot be as complicated as designing a multi-storey building or developing an industrial site or building large infrastructure right? 
Talk to any civil engineer and you'll uncover a wide range of technical and practical aspects that impact road construction projects. 
Like any other construction project, making roadways involves careful attention to detail during on-site inspection and reliable, accurate measurements. 
Collecting this data manually is often prone to human errors and a duplication of effort. 
This is where drones come into the picture. 
Yes, using drones for road construction is a complete game changer! 
Our Project Portfolio
A few of our past projects from our years of experience of working with 100+ clients in AEC Industry carrying out 3D Laser Scanning, modelling, volumetric calculations, aerial inspections, mapping & contour surveys, aerial land surveying, photomontage and much more.
From giving you real-time insights of the worksite to measuring soil volumes, project progress, site safety and contractor performance, drones can do alot more than you think.
And let's not forget the ongoing road and bridge maintenance and repair work which is a large and often overlooked part of these construction projects.
With drones, you can inspect difficult to access positions like over water or alongside busy roadways to spot structural damages, assess deterioration and reduce maintenance costs and delays.
What's more, with a reliable drone surveying contractor, you can gather valuable data insights about your construction project that may take more time, safety planning and simply not be possible using boots on the ground.
It is perplexing how drone technology and drone mapping is under utilised among engineers and construction firms in Australia.
Here is a short video to help you understand how drones are used in construction and combined with digital visualisation deliver powerful insights into the project status, site performance or asset condition and management.
Here are the top 6 ways you can benefit from drone mapping to make your road construction projects more efficient.
Pricing packages to suit your business
Plans with inclusions for Drone Inspection, Land Surveying, 3D Laser Scanning, Drone Photography & Videography. Get custom quote for your specific requirement.
Accurate Land Assessment
As a road contractor, you know how important it is to assess the land, soil conditions and determine earthworks of the site before project commencement.
You don't just start paving the land by laying asphalt and cement on the bare earth.
Before paving the roadway, you need to clear the area of obstacles, debris, dense vegetation etc. to ensure that the ground (and subsequent road) is even, sturdy, and durable enough to withstand harsh weather conditions. 
With drones, the land inspection, assessment and road design process becomes a lot easier. 
You don't have to send an engineer on-site to manually measure the land area or take reference photographs. 
Using drones to capture aerial images of the worksite from multiple angles, combined with surveying and photogrammetry techniques gives you an accurate digital replication in the form of sitemaps and models and an overall picture of the gradation, soil quality and earthwork involved in your construction project. 
Using these insights, engineers can determine areas that need to be filled or levelled out to carve the roadway, determine drainage and other design features. 
You can check out this video to see how drones are used to reproduce terrain features in a digital 3D model.
Corridor Mapping
Corridor mapping is a technique where the drone captures the road corridor in a linear way. This trajectory continues over the entire length of the worksite, giving you an accurate map of the entire project. To conduct surveying of such a large land area using conventional methods, requires extensive field surveying labor around busy, high speed traffic flow areas. This incurs high costs due to the amount of time and the safety requirements for the protection of staff working around live high-speed traffic. Using a drone for corridor mapping allows for more efficient data capture and overall reduced staff safety risks.
Corridor mapping also helps you cover the entire area in a single flight, capturing the entire projected roadway. Using the images captured by the drone and survey control we combine this data with photogrammetry software to create high-accuracy, high-precision maps, 3D models and point clouds spanning the entire project area. These maps and models give accurate topographical details like contours, digital terrain, vegetation and elevation models and are also used to identify features and break lines, slope deviation, aspect planning, planimetric or elevation maps.
Highway Infrastructure Management
Constructing roads is not a once off job. You need teams to constantly monitor the work and jobsite, and identify and repair any damages ASAP. 
With the use of drones surveillance and aerial cameras, project managers and supervisors can easily keep an eye on highways, intersections, flyovers, bridges, and other infrastructure. 
Many of the images captured with drones are also geotagged, making it easier for engineers or maintenance crews to locate the damages and get them fixed. Plus its more efficient to attend to maintenance work with the right equipment, tools and materials being fully informed and prepared for the task at hand without having to revisit or return. 
What's more, you don't have to manually record and sort through the footage. Instead, a qualified drone expert can attend the site earlier and livestream the footage live to your desktop or laptop.
Drone mapping is a key factor in reducing workplace injury. The risk of on-site injuries and accidents decreases drastically when drones are correctly adopted into jobsite management and monitoring.
Road Distress Monitoring 
Road distress monitoring refers to keeping track of the high traffic/high risk roadways that are prone to accidents. 
With drone mapping, engineers can quickly locate the accident site, calculate the extent of the damage, and take necessary action. 
Road distress monitoring doesn't just apply to highways and high traffic areas. You can safely and legally use drones over pavements, smaller roadways, remote routes etc. An experienced and fully licensed CASA drone services provider like AVIAN is able to manage the approvals, risk and safety management of drone operations in complex high traffic/high risk locations.
Have a custom requirement ?
Get a quick estimate for your specific project requirements with listed inclusions/exclusions.
Data management and record
Perhaps the best thing about using drones for road construction is how it benefits project management and reporting. Obviously with regular project updates using drone images and video gives stakeholders, clients and project teams a more engaging view of the project status and success but often this is a historical record of the events that have taken place during the project lifecycle.
A professional drone service provider will keep digital archives of all the footage captured during the duration of the project available for retrieval and analysis should an incident or future dispute or claim occur. 
Each image/video captured by the drone is stored and secure. What's more, the surveyor also processes the drone data, helps you create 3D maps and models and provides necessary on-site insights at key project milestones. A service provider with industry-specific expertise like AVIAN can provide quality assurance on a project after contractor works to validate the completed works are to specification. This ensures timely payment and can avoid costs of rectification works or lengthy and costly disputes.
Certain drone data management software is also compatible with your existing engineering workflow systems. So, construction companies don't have to make any drastic changes to their existing workflows or systems in order to incorporate drone data in their project.
We make road construction easier!
With AVIAN, you don't have to worry about worksite surveying, mapping and monitoring of your road construction projects anymore. 
Our industry-specific drone experts can handle everything from major highway projects to smaller road improvements, bridges, intersections and other major infrastructure projects. 
So, contact us for your next road construction project in Australia and our team will get back to you to discuss ways we add value, improve safety outcomes and ensure project success. 
Have a question for us ?
Our team is eagerly waiting to know about your queries. Please call us at the number below during business hours and our team will help you out.