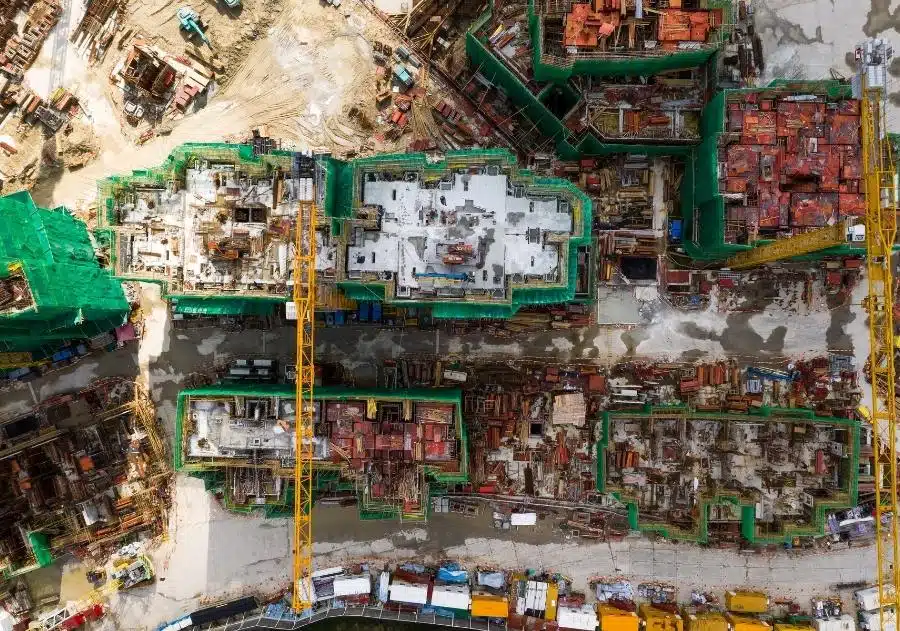 It is no simple feat to construct a building from the ground up or renovate an existing property. 
There is much thought and meticulous planning that goes on behind the scenes. 
Feature surveys and boundary (or investigation) surveys are among the first steps land surveyors take to get accurate site dimensions and measurements. 
On larger sites, these surveys typically take days onsite and weeks to deliver plans using traditional surveying methods. However, with drones and 3D laser scanners, the entire process takes less than a day onsite with so much more data captured.
Read on to know all about feature surveys and how drones help deliver them faster.
Our Project Portfolio
A few of our past projects from our years of experience of working with 100+ clients in AEC Industry carrying out 3D Laser Scanning, modelling, volumetric calculations, aerial inspections, mapping & contour surveys, aerial land surveying, photomontage and much more.
What are feature surveys? 
Feature surveys include the topographical details (contours) and any significant site features (i.e. buildings, roads, paths, rooflines), terrain type, topography, adjoining boundaries, etc. 
These surveys are usually the first step before starting a construction or land development project. 
The project managers and builders get a fair idea of the property dimensions and features with feature surveys. 
Check out our case study on Accurate Terrain Mapping and Contours.
What is included in a feature survey?
A typical feature survey may contain the following things:
Contours of the land 

Elevations or levels

Utility services around the property such as electrical lines 

Retaining walls 

Fences and boundaries

Trees and other vegetation 

Adjoining properties

Other structures on the site. 
Pricing packages to suit your business
Plans with inclusions for Drone Inspection, Land Surveying, 3D Laser Scanning, Drone Photography & Videography. Get custom quote for your specific requirement.
When do you need a feature survey? 
Feature surveys are usually conducted before the construction work begins. These surveys are also used for subdividing a property or renovating an existing building. 
Feature surveys are usually used by architects, site engineers, council permits and builders. 
It is best to speak with your project manager, designer, architect or site engineer to determine if a feature and level survey is required.
At Avian, we often speak directly with these individuals and based on the initial consultation and site visit, we create customized survey plans and decide which type of surveys and deliverables would best suit your needs. 
Why do you need a feature survey?
The insights gathered from a feature survey help builders make informed decisions about 
the building design. 
Without a feature survey, you may commit crucial construction mistakes or result in structural flaws in the building leading to heavy losses. 
Feature surveys also help architects create the working concept of the building design. 
6 Ways Drones Help with Accurate Feature Surveys 
Drones (or UAVs) have become increasingly popular in the AEC industry. Architects, engineers, and builders use UAVs for project updates, aerial asset inspections, terrain mapping, etc. 
Drones are also a great alternative to manual surveying techniques, saving the surveyor time and risks with being onsite and having to walk the ground. 
Next we will discuss some ways in which drones deliver accurate feature surveys and more contextual site information.
Quick and accurate measurements for feature surveys
Drones can cover hundreds of acres in a few hours. These agile flying machines, when combined with surveying techniques are also accurate and less prone to human errors. 
Drones use GCPs or ground control points as reference landmarks on the ground. Using these GCPs, drones can follow the survey path and collect accurate data. 
Easier to execute & a time efficient way to conduct feature surveys
Feature surveys using drones are easier to execute than in-person surveys and can get the job done at a fraction of the total survey time required by other alternatives. Note that you need a CASA drone license to operate drones for commercial purposes in Australia. 
Depending on the type of drones used, you can easily manoeuvre it over the site and zoom in on specific locations. 
The drone data thus collected is processed in photogrammetry software to create 3D maps and models.  
Have a custom requirement ?
Get a quick estimate for your specific project requirements with listed inclusions/exclusions.
Better worksite safety 
Drones can reach places that are otherwise inaccessible to people. You don't have to send workers up towers or down pipelines anymore. 
You can easily navigate drones from a safe distance and have the survey data streamed directly to your laptop or tablet. 
Drones, therefore, reduce the need for human involvement and improve worksite safety. 
Identify construction errors 
With drones, on-site engineers can quickly identify structural errors, damages, or other dangerous situations. 
Drones are essential for site inspections, stockpile calculations, and identifying damages. 
The structural or design errors identified early on save you a lot of time and money. It also prevents the risk of accidents and on-site injuries. 
Most drone surveying companies in Melbourne offer public liability insurance. This insurance covers any third-party damages done to neighbouring properties because of drone malfunction. A 
side note: always ask your drone service provider if they provide WorkCover and insurance.  
3D mapping and models 
Drone data collected from the feature survey is transferred to photogrammetry software to generate 3D models. 
If the property has thick vegetation, we use LiDAR drones or 3D laser scanners to get accurate on-ground measurements. 
In LiDAR scanners, the survey data is collected as point cloud images processed in BIM software. 
The 3D models and maps thus generated can be used as reference blueprints, business proposals, working prototypes, etc., to update investors. 
3D models also simplify the construction design for the client, and they can now see how the building will look once completed. 
Cost benefits 
Drones reduce operational downtime, identify crucial errors, prevent worksite accidents, and ensure accurate measurements. 
These benefits ultimately help builders cut operational costs and get the job done in record time. 
Tracking project progress
And finally, with drones, you can track the project's progress. The project progress data is shared with the client and investors to give them an idea about the project and its eventual completion. 
The bottom line
Drones are a game changer when it comes to land surveys and aerial inspections and they are quickly changing the surveying landscape in Australia.
Contact Avian Australia and book a free consultation with us today to get your feature survey carried out anywhere in Australia with the help of our satellite locations.
Have a question for us ?
Our team is eagerly waiting to know about your queries. Please call us at the number below during business hours and our team will help you out.