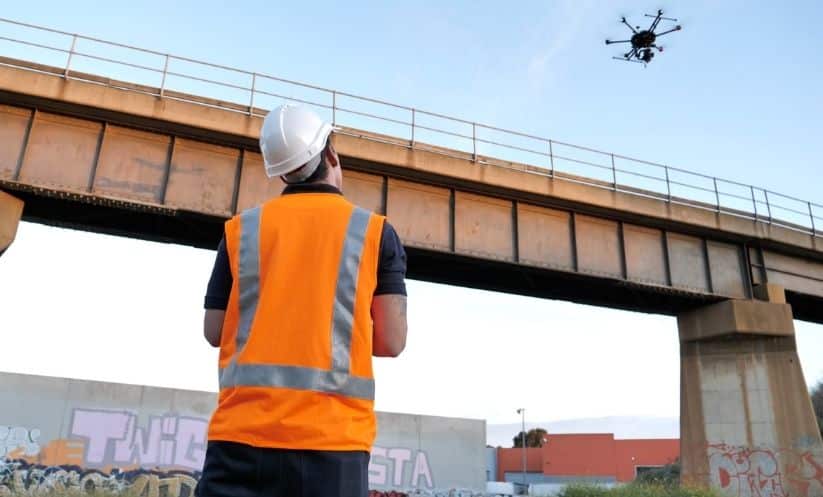 Visual inspections have been an important part of both commercial and domestic projects. And regular roof inspections help building owners and managers with property management and maintenance. 
Traditionally, these inspections were quite expensive and time consuming. 
And not to mention, drone inspections can be dangerous as you have to walk along slippery or dangerous rooftops to get a proper look at damage and take proper measurements. 
And that is why we recommend you inspect building with drones. It is cheaper, safer and overall quicker than manual inspection! 
Our Project Portfolio
A few of our past projects from our years of experience of working with 100+ clients in AEC Industry carrying out 3D Laser Scanning, modelling, volumetric calculations, aerial inspections, mapping & contour surveys, aerial land surveying, photomontage and much more.
Drones are a quick and convenient way to inspect difficult to reach spaces and gather alot of valuable information in a short amount of time.
You don't have to send contractors onto dangerous rooftops to look for leakages, cracks, or other damages and avoid using costly and time consuming cranes and EWPs (elevated work platforms) until you know the extend of the damage and can accurately assess and price the repairs and maintenance involved. Why not let the drone do the hard work for you. 
Incorporating drone inspections in building repairs and maintenance improves workplace safety. 
So, how exactly do drones work on roofs and building inspections including high-rise building facades? Read on to find out!
Why Should You Inspect Building With Drones
Regular and preventative maintenance and repair work can save you a lot of time and trouble in the long term. Minor and major damage can be repaired before it becomes a larger problem. Usually its time consuming and costly to inspect larger roof areas and medium to high-rise buildings.
Before drones, these tasks were usually undertaken by an inspection crew and they had to climb rooftops or suspend down from the rooftop, risking their personal safety to check for any damages and defects.
Now with drones, the inspection process has become a lot simpler and more efficient. It reduces the risk of on-site injuries, as you can now capture specific defects and damages on the rooftop and building from multiple angles both up close and a safe distance. It's also a lot more efficient to cover an entire building from top to bottom than to manually involve cranes, suspended platforms or abseil down the facade of the whole building.
What's more, you don't even have to be onsite. You can conduct a desktop review of the captured data (both images and video) or be provided with a comprehensive report with classifications and recommended actions for the identified damages.
Drone inspections in construction sites, residential projects, and commercial spaces are now very common. See the video of how we conduct live inspections with some of our clients.
Pricing packages to suit your business
Plans with inclusions for Drone Inspection, Land Surveying, 3D Laser Scanning, Drone Photography & Videography. Get custom quote for your specific requirement.
Set your goals straight 
First and foremost, you need to set your goals straight. What do you plan on achieving with this drone inspection? What are the deliverables and how do you intend to use them? What image quality and level of detail are you expecting? Do you need an engineering report or a qualified builder to provide recommendations?
Once you have the end goals in mind, we can move on to make other important decisions such as choosing the right equipment and planning the job specific to its location and the goals and deliverables.
Now, an average building inspection project consists of obtaining high-resolution photographs and videos of the building, including the roof, gutters and flashing. Drones and UAVs (unmanned aerial vehicles) are ideal for this job, but they just like any other tool have different purposes. Some drones have zoom lenses, spotlights, thermal imaging cameras and some even have strobe lights and speakers! 
If you require high levels of detail of the identified defects, you'll need a drone with a 30x zoom camera that can safely zoom into the defects, from a safe distance. 
Some inspections also require the use of 3D laser scanners or Photogrammetry to capture the rooftop area in greater detail and gather point cloud data. This is then used to recreate the rooftop and building as 3D models. 
Architects and engineers can refer to the 3D model to determine the extent of damage and estimate the cost of the rectification works as they are working with accurate and up to date building dimensions.
Other factors that determine your end goal would be
The height of the building 

The location of the building

The structure and shape of the building 

The weather conditions 

The flight altitude
With these factors in mind, you can choose the right drone or drone service provider that can successfully inspect the building and rooftop areas and gives you ample insight on the overall condition or the extent of repairs and maintenance work.
Most drones do not perform well in building inspection tasks with winds >30km/h 
Have a custom requirement ?
Get a quick estimate for your specific project requirements with listed inclusions/exclusions.
Find the right drone 
Note, there is no perfect drone that would be compatible with all kinds of inspection projects. Each inspection project is different, and you must pick the right drone equipment that meets your unique project requirements. 
A rule of thumb that I usually follow is: Will this drone meet the needs of the goals for this project?
It's worth investigating your insurance cover and liability if something bad was to happen while you or a service provider were using the drone for a building inspection. 
Many insurance companies will not cover you or a drone service provider for operating a drone without a licence or in a hazardous manner that results in personal or property damage. 
Given that many buildings are surrounded by both common and public areas, it pays to play it safe as building inspections have a higher incident rate due to the close proximity of the drones to obstacles.
Check out this short video footage of how our team captured this high-rise tower for inspection from multiple angles.
Small drones Vs heavyweight drones 
The choice between small-scale drones and heavy-weight drones is simple. For residential inspections, I recommend small-scale drones as they are cheaper, quicker, and easier to fly around.
However, note that smaller drones are not very durable, have adequate camera options and cannot fly safely on moderately windy days. In these cases, a heavy-duty drone is the better choice.
Follow the safety protocols
Flying drones near a building is tricky. The drone, if not controlled properly, can hurt the people and damage property in and outside the building. Plus the internal compass, magnetometers, GPS  and other sensors are prone to interference in the environment that results in malfunctions and unpredictable behaviour!
Here are some safety protocols that you must keep in mind before flying a drone:
Ensure that you have the permission to fly a drone in the area 

Carry the

CASA certification

with you and ensure you follow all the protocols (see rules

here

)

Always maintain a minimum distance of

30m

from anyone not involved in the operation

Do not fly above or over people

Keep note of any trees, cables, birds and other obstacles that might disrupt the inspection process

Walk around the building and keep note of all the entrances/exits on the property including public traffic and pedestrian areas

Don't speed the drone over the roof or building. This might scare the birds nesting on the roof or nearby causing them to attack or damage the drone

Bring a

ground crew observer

with you to guide you through the process. They keep an eye on the drone and surrounding threats and allow the operator to focus on the inspection tasks

Ensure that the drone and accessories are fully charged

Bring a backup drone and accessories in the event of a malfunction or failure

Ensure you identify a safe landing area in case of an emergency
Hire the best drone professionals in Australia 
Building and Rooftop inspection is just the first step. The architects and engineers use the insights gathered from a drone inspection to decide the next course of action. This may include high-precision 3D models and sitemaps of the building, roof and surrounding areas for site and maintenance planning, design or building modifications and to assist with council applications.
At Avian, our team of drone experts not only help clients with drone inspection but also using high- precision 3D models and maps to gather important insights that support crucial business decisions. 
Book a consultation today, let's talk about your project and the ways in which we can make your job easier.  
Have a question for us ?
Our team is eagerly waiting to know about your queries. Please call us at the number below during business hours and our team will help you out.