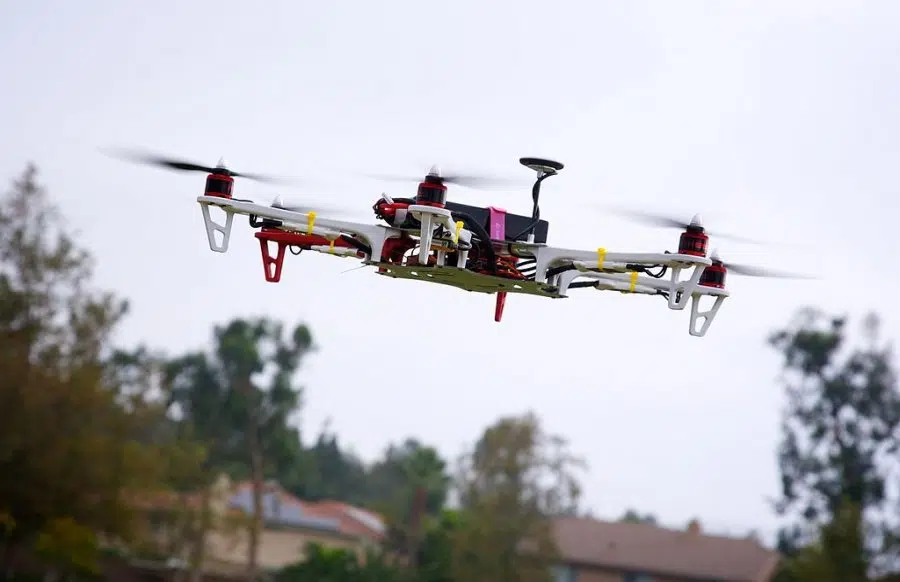 Not just in Australia, but across the world drones play an essential role and are a crucial tool for inspection contractors, on-site engineers, project and building managers. Drones, like any specialised tool, are specialised for different purposes and can be integral in a range of innovative applications like aerial asset inspection or at heights inspections, where it's often high risk, time consuming or difficult to complete a manual inspection with rope access, platforms or scaffolding. Often it's difficult to manually check every piece of steelwork or every inch of a structure or large construction projects for days or weeks at a time. 
Below you can see the top 9 commercial drones for asset inspection or site inspection with detailed reviews from drone experts from across the world.
Our Project Portfolio
A few of our past projects from our years of experience of working with 100+ clients in AEC Industry carrying out 3D Laser Scanning, modelling, volumetric calculations, aerial inspections, mapping & contour surveys, aerial land surveying, photomontage and much more.
The solution? You can work with commercial drone inspection providers to expedite your inspection and site inspection activities. Depending on your ongoing requirement, you can own or hire a commercial drone service provider. By using drones we can cover large high-rise buildings, bridges over water or vast land areas in a matter of hours, conserving your resources, effort and budget.
Let's walk you through the 9 game-changing drones for asset inspection and site inspection in Australia. We will primarily focus on features which sets them apart and how they are important for inspection tasks across a range of industries. 
The frame of the DJI M300 is

water-resistant and is one of the popular drones for asset inspection. To be precise, the product is water-resistant rather than waterproof. This implies that the DJI M300 frames can be operated in mild rain, but it does not imply that the cameras can see in rainy conditions or are waterproof. It does, however, attest to the DJI M300 airframe's quality and durability. 

Two TB60 batteries are required for the M300 RTK, which adds 2.72kg (6lbs) to the aircraft's weight, which is substantial when compared to the TB55s, which are just under 0.9kg (2lbs
DJI Matrice 210 Series RTK
DJI had inspection services in mind when it reimagined its

commercial drone platforms

. DJI created a mount for pointing the camera directly upwards. This is because previous commercial drones could only carry a single payload, DJI also added their usual gimbal stabilisation and the ability to mount 3 different cameras, resulting in the DJI Matrice 210 series. If you are looking for a drone for asset inspection then this old horse is quite a handy bet in the Australian market.

The Matrice 210 was the first quadcopter (4 motors) that can carry two payloads simultaneously. On top of the drone, the Matrice 210 adds a third attachment for an upward-facing camera. The Matrice 210 RTK delivers vital RTK GPS performance for challenging environments and RTK precision (geo-tagging) surveying operations.
DJI Matrice 600 Pro
The Matrice 600, DJI's first heavy lifter, might be a few years old now but it's still a very capable and robust airframe and a capable drone for asset inspection. The M600 is a hexacopter (8 motors) designed for professionals who need to lift larger cameras and payloads i.e. DSLRs, Zoom lenses and LiDAR sensors. 

It also has six batteries for longer flight times, 3 GPS and dual IMUs for more redundancy and improved safety while in the air. The M600 has a flying time of up to 35 minutes with the Zenmuse X5 or XT thermal camera and around 16 minutes with the Ronin-MX or a larger payload. If you are looking for a heavy duty drone for site inspection, then this is one of your best bets on the day of the aerial drone inspection.

The E2000 Tuned Propulsion System, which contains 6010 Motors and 2170 Propellers, is installed on the Matrice 600. 
Pricing packages to suit your business
Plans with inclusions for Drone Inspection, Land Surveying, 3D Laser Scanning, Drone Photography & Videography. Get custom quote for your specific requirement.
DJI Phantom P4 Pro V2.0
Thanks to its 1-inch sensor, customizable aperture, mechanical shutter, and up to 4K/30p video recording, the DJI Phantom 4 Pro V2.0 is a very competent drone for inspection tasks, especially when a smaller, lighter drone is required. 

This drone retains its status at prosumer level, with its 20MP 1-inch sensor and ability to capture video up to 4K at 30fps. These days, it's not the quietest or smallest model in DJI's current lineup, but with its impressive camera sensor, stability and reliability, it's an attractive choice for drone inspections.
DJI Mavic 3
The DJI Mavic 3 is a step forward in expert aerial imaging, with a dual-camera configuration in a 3-axis gimbal, and classifies as a great drone for asset inspection. There's a Hasselblad 20MP wide-angle camera with 4/3″ CMOS and a 12MP telephoto camera with 1/2″ CMOS, 4K/50fps video, and 28x hybrid zoom. 

The telephoto may be used to survey sites in Explore Mode. Still, its primary purpose is to work in tandem with the wide-angle Hasselblad, shifting between the two for genuinely dynamic images. 

The drone's capacity to handle practically any lighting situation and offer low-light video with reduced noise is enhanced by its 12.8 stops of frequency response and customizable aperture from f/2.8 to f/11.

The above features come in handy to capture high definition images which are quite a prerequisite for drones for asset inspection in industrial sites.
DJI Inspire 2
The Inspire 2's forward and downwards vision systems can identify obstacles up to 30 metres away, enabling flying speeds up to 34 mph. Not so important when conducting inspection work but the ability to mount a Zenmuse Z30 zoom camera makes this a great choice for drones for aerial asset inspections. 

DJI's Lightbridge technology is included on the Inspire 2 with a transmission range of up to 6.92km (4.3 miles) in ideal conditions and can send 1080p/720p video as well as First Person View (FPV) view to the pilot or camera operator.
Have a custom requirement ?
Get a quick estimate for your specific project requirements with listed inclusions/exclusions.
Intel Falcon 8+ Drone
Intel Insight is proprietary software to aid in the inspection process. After gathering inspection data, the program can recognise and identify any changes. This intelligent feature is quite effective in getting a complex aerial inspection done and hence is one of the most advanced drones for asset inspection.

Intel Insight is a robust software suite that captures and transforms photographs taken from the sky.

The Intel Falcon 8+ Drone was an early entrant to the aerial inspection industry and proved to be a very capable platform.
Acecore Zoe
The Acecore Zoe drone is light and quickly deploys thanks to its all-new coaxial propulsion technology. This octocopter in a quadcopter layout has the ability to use its eight motors, which improves steadiness and flight performance. This comes in quite handy for asset inspection in strong winds or through tight spaces with higher stability, making it a great choice for drones for asset inspection.

The Zoe Zetona drone from Acecore is equipped to take on tasks both onshore or offshore. The skillfully designed airframe makes for a tough machine that can manage various difficult inspection tasks.
Parrot Anafi
The Parrot Anafi is all about size—thanks to 4K video recording, a tiny airframe and USB charging, this compact, foldable drone is great for travel. 

The Anafi is light due to its mix of carbon fibre and plastic.

The Anafi charges through USB making it easy to charge away from power mains. The Anafi's nose-mounted lens can be tilted upward, allowing it to capture inspection angles that many other drones can't. 
Flyability Elios 2
The Elios has been developed with a single objective: confined-space inspection activities. The Elios can fly in tight spaces and complete jobs that most drone operators couldn't even attempt with conventional drones. 

The carbon-fibre cage that surrounds the aircraft immediately separates the Elios from other drones in the aerial inspection category.

Elios can securely move about within utility tunnels, ballast tanks, and enclosed spaces, completing evaluations that would normally need human workers entering these hazardous, dangerous and claustrophobic locations. This makes it the best-in-class for confined spaces inspection activities.
Parrot Anafi Ai
A 48 MP 1/2″ CMOS sensor is included in the ANAFI Ai. A Quad Bayer colour filter pattern is included, making it ideal for image analysis and photogrammetry. 

It offers a dynamic range of 10 stops in Standard mode and 14 in HDR mode. To build high-fidelity point clouds and high-quality 2D or 3D model reconstructions, the photos must have optimal gradation. With the Anafi Ai any photogrammetry task is made easier and delivers a higher quality model.
Skydio 2+ Enterprise
Skydio detects things in its path using AI, primarily computer vision and then safely navigates around them. For example, the Skydio 2 uses six 4K navigation cameras to provide a whopping 45 megapixels of visual data. 

Skydio 2 records 4K video at up to 60 frames per second at a bitrate of 100Mbps. The lens can track moving objects, allowing for spectacular views while shooting dynamic scenes. Less for inspection than for capturing moving targets, the Skydio 2+ is a versatile drone that can be used for inspection activities.
The bottom line
The expertise of the drone pilot and their experience and understanding of the AEC industry by far outweighs the evolving drone technology on offer in the market. Remember, an engineer onsite looking at the drone images and video understands exactly what to look for during an inspection and can immediately assess existing conditions due to knowledge and experience. 
However, new age drones are pushing the limits with every new task and combined with machine learning and AI are proving to remove many manual processes and risks when conducting asset inspections at heights, in dangerous conditions and over water. Drones can help deliver accurate and meaningful solutions to professionals in the AEC industry. 
Please feel free to talk to our experienced team to learn how new drone-tech can help evolve your building, asset or site inspections in Melbourne, Sydney and Brisbane.
Have a question for us ?
Our team is eagerly waiting to know about your queries. Please call us at the number below during business hours and our team will help you out.