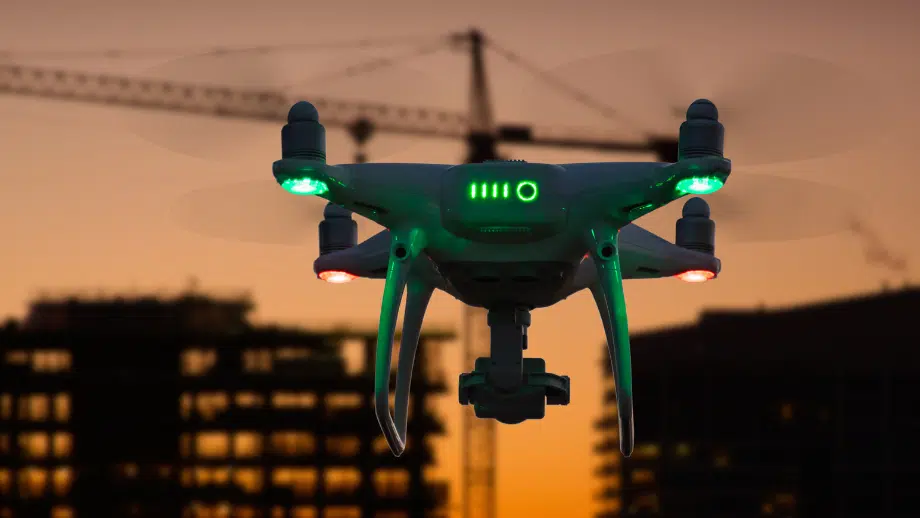 A Building Inspection process involves a comprehensive evaluation of the building with a particular focus on visible defects and existing conditions which might lead to structural degradation and any identifiable defects of the exterior and interior elements of the property. This process culminates into a statutory and actionable report per Building regulations 2018, covering non-invasive methods like thermal imaging scanning, moisture content readings and digital photographs, where applicable.
The process usually demands a couple of days of dedicated time from the building inspector to diligently measure and gather accurate insights about the overall condition of the property. Traditionally, they are performed manually by building inspectors, who often, due to OHS (Occupational Health and Safety) risk, are unable to climb on the roof or facades of buildings, which would significantly impact the building inspection cost of a project. 
 There is a significant need for further automation in the building inspection industry which also helps with building inspection cost savings, and it is no wonder that drones are now becoming increasingly popular among building inspectors worldwide. Using drones in building inspections is evolving the inspection process with increased accuracy, efficiency and cost-avoidance.
Our Project Portfolio
A few of our past projects from our years of experience of working with 100+ clients in AEC Industry carrying out 3D Laser Scanning, modelling, volumetric calculations, aerial inspections, mapping & contour surveys, aerial land surveying, photomontage and much more.
Building inspectors use drones for various supporting tasks during the building inspection, including assessment of roofing, guttering, downpipes, facades and windows on buildings. In addition, using the drone to gather an overall sitemap or master plan of the entire building or create a 3D model for defect referencing and site analysis.
Drones are fast and can scan the exterior of the building from viewpoints that are very difficult to achieve otherwise such as up close to facades or guttering, at roofline level at heights unobtainable without additional cost and preparation. Such wealth of insights capture a lot more depth of information to inform the building inspection reports and remediation or repair plans.
Similar to any project management, the actual outcomes are dependent on the project budget and other critical factors exclusive to the project. There are an abundance of technical features unavailable to consumer drones that professional drone service providers offer like thermal imaging, 3D modelling or 30x zoom cameras. 
One of the top two key factors in determining the viability of using a drone for the building inspection is the building's size and location. This will affect and determine the building inspection cost you must bear to inspect them using drones due to safety management, staffing and equipment..
Read on to know more about the costs involved with using drones for building inspections and how it impacts the quality of your project deliverables.
Who needs a building inspection?
Building inspections are essential to understand the state of a building and identify the areas that need urgent repairs. Traditionally, builders and inspectors relied on manual checks sending people up rooftops or down the side of buildings with cameras to capture damages, leaks and cracks. 
Drones are a better alternative to these manual inspections, as they are cost-effective, faster, safer and offer better data accuracy. Drones can be perfectly positioned to capture photographs that highlight the defect or problem and can capture large areas in a shorter amount of time. Plus, images are geo-tagged and can be referenced on a 3D model or sitemap to make it easier for future reference. 
Using the right type of drones, builders and inspectors can identify water egress, damages, spalling, cracking, roof coverings, tile damage and facade deterioration that would otherwise be missed. Drones equipped with infrared cameras are used to conduct building efficiency audits and determine the condition of Photovoltaic and HVAC installations.
Construction Managers are starting to use drones during all stages of the construction project. Starting at pre-works for site viability and assessment, for site surveying and planning, for regular updates during the project, for quality control and site compliance, through to promotion and marketing at the end of the project. 
At Avian, we support our clients with the end-to-end process in supporting the use of drones for construction inspection combining surveying, geospatial, 3D laser scanning, and digital imaging techniques to capture and digitise the site and overall project.
ABCB is a body that sets the standards for building inspections in Australia. And one of the main requirements for on-site inspections is photographic/video evidence. Drones help builders collect a more comprehensive set of photographic and video evidence to get the required approvals, permits or recommendations needed to repair, remediate or renovate a building. 

What's wrong with traditional inspections? 
Drones are becoming popular for builders and building inspection companies who want quick and insightful inspection data. The reason why drones are now preferred is simple, manual inspections don't offer the same level of detail, on-site safety or cost-efficiencies when compared to manual inspections using cranes, scaffolding, rope-access or building maintenance units (BMUs). 
Building inspections of high-rise commercial buildings is a time-consuming and at times, risky task. In traditional inspection methods, a team of inspectors had to climb dangerous scaffolding or suspend using rope-access  to identify existing conditions. This can be time-consuming and dangerous as a simple mistake could lead to accidents, on-site injuries and property damages. Plus, insurance premiums have increased substantially over the years to cover high-risk workplace activities. 
Using cranes, scaffolding or BMUs have a steep impact on the building inspection cost for building management, owners and contractors that may not be required for some repairs and remediation works. And until the extent of the work can be determined these decisions are costly, time-consuming and expensive. 
Drones offer an  immediate information gathering solution to inform repairs and maintenance planning or defer such works until more appropriate safety controls, permits and quotations can be obtained.
With drones, building inspections can access every aspect and corner around the building without sending a single person into a risky situation and gather immediate evidence of the existing conditions.
Pricing packages to suit your business
Plans with inclusions for Drone Inspection, Land Surveying, 3D Laser Scanning, Drone Photography & Videography. Get custom quote for your specific requirement.
Advantages of drone building inspections   
Drone building inspections have become the standard for builders, engineers, building and facility managers who want to inspect residential and commercial buildings without spending significant amounts of time and money to gather immediate insights. As discussed earlier, drones are faster, cover more surface area and offer better data quality when compared to the traditional inspection techniques. 
Plus, drone data is easy to access and convert to many useable formats to incorporate into reports, quotes and presentations. Some drone service providers offer drone data that is converted to impressive and useful 3D models and animations to assist with defect referencing and maintenance planning. Using drone data to create 3D maps and models of the property or building gives you a holistic view of the building and can be used to inform repairs and maintenance planning. 
The more information available to contractors allows for more precise quotations and proposals for repairs and maintenance. These 3D models, sitemaps and plans help professionals simplify complicated access and maintenance planning to ensure appropriate plant and machinery, resources and building materials for the planned repairs. It is far more efficient showing a contractor, investors or project managers an interactive 3D model to visualise the building and surroundings, than the often confusing design blueprints or drawings.
Drone data captured over time also allows builders and building owners to see how the building's design and condition has changed over time. Conducting trend analysis of defects and deterioration helps builders, engineers and contractors to determine the rate of deterioration, urgency of repairs and identify areas that need further modifications or alteration.

Cost-benefit analysis of drone inspections
Let us see how drones can significantly cut down building inspection costs and help building inspectors get real-time information of the condition of the building: 
Preventive maintenance 
It is more cost-effective to avoid the problem early, than to repair the problem late. Drones help you identify areas that are damaged, worn out or have leakage before the damages become severe and expensive to repair.  Drones also help builders plan forthcoming repair and maintenance activities and capture a digital record of the building condition over time. 
In an initial site visit, we usually get an indication of the building and overall site conditions, including hazards and other factors such as:
Scale of the building

Site location and surroundings

Traffic and pedestrian density

Structure and shape of the building

Weather conditions and localised risks

Job complexities and limitations
These factors determine what kind of equipment and resources we need to complete the job and deliver the desired outcomes.
We also conduct a comprehensive job planning process to ensure any permissions and approvals are obtained to operate drones and related equipment at the location. Our team at Avian has the necessary operational experience and licences including a full CASA drone licence, CIWC and insurances to operate on construction sites and high-rise buildings.
Saving the cost of the workforce 
Regarding resources, drones are equipped with GPS navigation, reducing the need for a large workforce. You can easily control the drone's movement and flight from the ground or rooftop.
Drone inspection reduces the need for a larger workforce.
Drones save costs on equipment and human resources. A drone operator and safety assistant is often enough to complete the inspection task. 
Manual inspections can involve a team of engineers and building inspectors to inspect the site and take the required observations. Drones are portable, easy to manoeuvre and offer more flexibility than any other inspection methods.
Have a custom requirement ?
Get a quick estimate for your specific project requirements with listed inclusions/exclusions.
Savings in building energy efficiency
Drones equipped with thermal imaging cameras can help identify any temperature changes between the exterior and interior of the building. This can expose heat leakage and inadequate coverings that allow heat or cooling to escape the building. With drones, you can inspect the surrounds of glass windows to check for leakages and conduct necessary repairs to save on electricity costs. 
Saving on the cost of scaffolding or platforms
In construction projects, manual building inspections of high-rise buildings often require expensive scaffolding and building maintenance units (BMUs) to allow the inspection of facades and exteriors. Setting up the scaffold takes a lot of time, effort and resources. It also adds to the building inspection cost of the project, making building inspections an expensive & cumbersome process. 
With drones, you can conduct fast, regular site inspections and check the progress of a building when it is still under construction or immediately afterwards. This makes it easier for the building inspector or engineer to check for any faults, damages or structural errors early on and take steps to rectify them as soon as possible. This is especially important before handover to the client for insurance purposes.
Drones eliminate some of the need for a scaffolding, cranes, rope-access and BMUs, cutting inspection costs by almost 80%. The drone operator can quickly move the drone around high-rise buildings, capturing the structure from multiple angles and gathering easier to reference information captured from a safe distance. 
Savings in liability insurance
Drones reduce the risk of on-site accidents. This can be cost avoidance on the cover or cost having to compensate for the injury or losses.
You don't have to send people to dangerous situations such as inside tunnels, on slippery roofs, or underneath bridges to check for damages. Drones can cover all these nooks and crannies in a low risk, efficient manner.
The drone operator can hover the drones around the building, high up a tower or underneath a bridge giving the engineer or building inspector ample time to identify any damages, design flaws, leaks and other potential problems. Plus, with high-resolution zoom cameras, the operator can safely zoom in on specific areas, clearly showing any cracks, damages or warpage etc. 

Cost of drone inspections in Melbourne
Drones reduce the risks, costs and ensure better building inspection data quality. You can send drones up high-rise towers, buildings, bridges, inside boilers etc. and get immediate in-depth insights. Unlike manual inspections, workers don't have to climb or hang down several stories to check for visible flaws or defects. 
In Melbourne, our price of drone inspections for commercial buildings starts from $1500 and this includes:
Comprehensive risk and job planning,

High-resolution images and video,

Travelling to the site within 30km from CBD

File indexing and categorisation

Covers all interior and exterior assets (roofing, gutters, downpipes)

Sitemap of property or asset

Delivery of Data via secure cloud link
On request, we also offer:
Inspection Recommendation Report (Qualified Builder)

Dilapidation Survey or 3D Survey

Cloud hosted inspection software (3D visualisation)

Engineering analysis

Building plans, as-built drawings and 3D Models
Avian uses drones, professional cameras and laser scanners to provide real-time insights on the existing condition of the building. We offer better flexibility, efficiency, data quality and accuracy than traditional inspection methods. Plus, using 3D visualisation and 3D models gives your inspections a unique and impressive differential than traditional reporting.
For more up-to-date inspection packages and inclusions, you can check out our drone service packages here.
We usually request clients to book a consultation and tell us more about their project. After the call, we schedule a physical site visit (if needed) to check the site and surroundings and determine specific job requirements for the inspection. 
The Bottom Line
Drones have been around for a few years now, completely changing how we conduct traditional, time-consuming workplace activities in the fields of surveying, inspections and digital imaging.
Book a free consultation with us to learn more about how, and why we do building inspections better.
Have a question for us ?
Our team is eagerly waiting to know about your queries. Please call us at the number below during business hours and our team will help you out.