Construction timelapse videos help AEC professionals summarise key events during the project and summarise a passage of time in a short period. Timelapse videos make for great communications and marketing material to inform stakeholders, the public and potential clients.
Over the years, timelapse videos have become increasingly popular, and we often get enquiries about the cost of construction timelapse services in Australia. Let us learn about the various factors that contribute to the cost and how it can enhance and communicate your construction project.
Pricing packages to suit your business
Plans with inclusions for Drone Inspection, Land Surveying, 3D Laser Scanning, Drone Photography & Videography. Get custom quote for your specific requirement.
What are construction timelapse videos?
Timelapse videos summarise key events over a period of time using either a fixed or aerial drone camera (yes, we can do a timelapse with drones). In construction projects a timelapse video can be captured over a period of a few minutes, hours, days or months.
How do drones help with construction timelapse videos 
Drones have become an important part of marketing and communications. In construction timelapse, drones help to capture an aerial perspective of the event or activity that can be sped-up to appear to be completed before your eyes.
For timelapse videos, drones help to position the camera exactly where you want to see the best angle or perspective to get the best possible footage and to make the video more interesting. These timelapse videos can be used as crucial marketing or communication material to engage the audience and actually stand out from the rest of the online social media videos. 
To be effective at capturing the sequence of time there are a few considerations aside from just pressing a button to record the scene and making it play at a faster speed.

Factors that affect construction timelapse videos
Producing and shooting a timelapse video needs a lot of planning, here are some factors that we look into when deciding the budget for timelapse videos. 
Project duration: The longer the timelapse video is, the more it is going to cost. This is because timelapse videos need to be captured at regular intervals so the camera must be powered for a longer period of time. Unlike other shorter videos, timelapse videos are captured over a period of time but sped up to make the on-site activities appear to happen in a few seconds. 

Equipment and resources: Indoor and outdoor timelapse videos need different kinds of shooting equipment, power supply and mounting hardware. You need to identify the initial set-up costs such as HD cameras, tripods, crane arms etc. Plus, depending on how long the cameras need to record can affect if there is adequate positioning or security. 

Deliverables needed: Timelapse videos usually need a bit of editing and modification. The photos or videos recorded need to be compiled and edited into a video. This usually involves adding the time lapse to an existing edit or production. 
Stages in the construction timelapse video 
Shooting a construction timelapse video is quite easy, provided you have clarity on what you want and the experience to correctly set the camera equipment. Often, timelapse appear to stutter and jump when played back, this is due to incorrect camera settings at the time of capture. There are roughly three stages to a construction timelapse video production, they are: 
Pre-production: wherein we survey the site, understand your project requirements and identify the strategic locations where the cameras can be placed to capture the activity. 

The setup and shooting stage: This is where the cameras have been installed and setup then we wait for the activity to commence. The duration can vary from project to project. Usually the camera needs to be on for a couple of hours (sometimes even days) to detect any actual changes or transformations. Importantly, the frequency of the image capture is essential to have sufficient video to work with. 

Post production stage: In this stage, we collect the camera data and edit it in a video editing software. Most clients want us to edit the video as it saves them a lot of time and hassle and they can immediately use the video.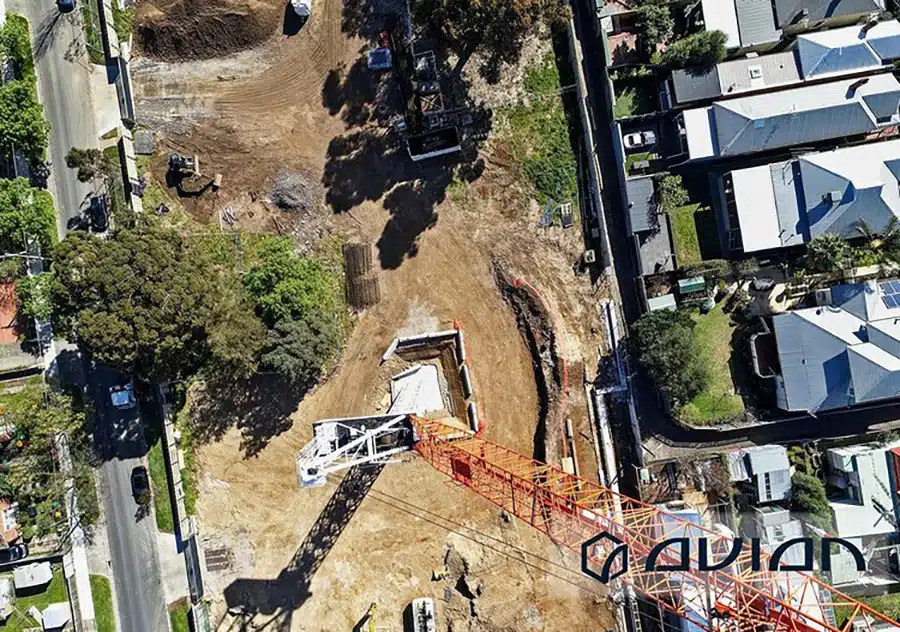 Our Project Portfolio
A few of our past projects from our years of experience of working with 100+ clients in AEC Industry carrying out 3D Laser Scanning, modelling, volumetric calculations, aerial inspections, mapping & contour surveys, aerial land surveying, photomontage and much more.
Types of construction timelapse services 
Construction timelapse services can be customised to your project requirements. The duration, size and location all contributes to the cost of the timelapse video. Here are the three main types of construction timelapse services we offer: 
Short term timelapse videos
Short term timelapse videos, as the name suggests, are quite easy and time effective. It usually takes hours to complete the entire timelapse shoot. However, in some cases, it might takes 2-3 days depending on how big the construction activity. 
In short term timelapse videos, our camera operators use either photo and/or video capture to record the event timelapse. These cameras are setup in multiple positions to capture various angles of the activity. This type of timelapse suits construction events that occur over hours or days.
Long term timelapse videos – Interior
Long term timelapse videos are usually shot over a period of a few weeks to months. In these videos, the camera track the gradual progress of the interior installations, refurbishments or fit-outs. 
Indoor timelapse videos as the name suggests captures the interiors of the building or construction site. These videos are helpful for building renovation projects, restorations and installations etc. 
Indoor timelapse videos require about 3-4 cameras placed at strategic locations inside the building. These cameras are fixed using clamps and must be stationary and not move. The gradual change happens because of the real-time progression of time and activities inside the building. 
Indoor timelapse videos can cost a bit more than the standard short term timelapses because they require more equipment, lighting and expertise.
Have a custom requirement ?
Get a quick estimate for your specific project requirements with listed inclusions/exclusions.
Outdoor long term timelapse videos 
Outdoor long term timelapse videos are usually used for tracking conditions over time, construction events or creating construction project updates. 
The camera equipment must be protected from weather conditions and mounted at locations that allow for cameras to be securely installed for the duration of the event. This is to avoid the risk of any damages or movement to the cameras. 
Outdoor construction timelapse requires dedicated time lapse camera equipment in weather-proof housing with independent power supply. Hence, the price of outdoor construction timelapse videos are more expensive when compared to other timelapse videos. 
Reasons why timelapse videos work
Timelapse videos are effective in crunching hours or days worth of real-time footage into a small and comprehensive video. And since the timelapse video is shot over a longer duration of time, AEC professionals can get a quick view of the activities or construction that has occurred on the project. 
Timelapse videos are easily accessible, impressive and a great way to showcase the project and its overall success to stakeholders, the public, potential investors and clients. 
Timelapse videos when combined with regular construction updates, photography and videos become an effective marketing and communications strategy to engage your intended audience, to inform the community or business and as an investment tool to attract clients to invest in your projects in the future. 
What do we offer? 
At Avian, we have a team of experience camera and drone operators who have ample experience working in the AEC industries. We offer niche, creative photo and video solutions that are customised to your unique project requirements having worked extensively in civil, commercial and infrastructure construction projects. 
So, how do you find out what you need? All you have to do is send us your details or drop us an email and we will get back to you to work out the best options. 
At Avian, we offer clients an initial discussion where we discuss your project, needs and desired outcomes. This consultation call allows us to understand your project requirements and the deliverables you expect. 
After the consultation call, we will consider the project and conduct some initial planning and issue you with a proposal or quotation.
If required, we may conduct a site visit or inspection to determine the best methodology, equipment and budget for your project. 
Contact us to set up a brief call and discuss your project requirements and we can showcase your project events and activity in the best possible way.
Have a question for us ?
Our team is eagerly waiting to know about your queries. Please call us at the number below during business hours and our team will help you out.